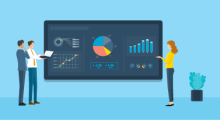 In this holiday season, wishing everyone a blessed Easter.
Earnings season is upon us, and it will be helpful to see how companies will factor in higher inflation and higher prices into their profit expectations. Earning season is important because it helps DWM to assess how companies are performing in this new environment.
Earnings is synonymous with profit (or losses). Here's a brief write-up on what this entails and why it is important.
***
Begin quote
Publicly traded companies are required to file three quarterly reports with the U.S. Securities and Exchange Commission (SEC) on what's known as a Form 10-Q. Quarterly earnings reports detail the above financial information for the most recent three-month period along with the comparable quarter the prior year. Most companies also provide data for the preceding quarter.
At the end of the calendar year or the firm's fiscal year, a company must file an annual earnings report to the SEC on Form 10-K. This report details the company's financial information for the entire year, with breakdowns by quarter and comparisons to prior years.
Private companies have it easy—they aren't required to disclose any financial information to the general public. But public companies are required to provide their shareholders, financial analysts and the broader public with a complete picture of how the business is doing each quarter.
Analysts on Wall Street make estimates about a company's financial performance in advance of earnings season. When the company discloses its quarterly results, investors compare analysts' estimates to the company's actual results. Earnings reports either confirm or refute these analyst expectations—with major implications for stock performance.
After the data is released in quarterly or annual reports, analysts might upgrade, downgrade or maintain their recommendations of a company's stock—along with their estimates for future growth prospects.
Investors pour over the data in both earnings reports and analysts' reports to assess whether a company's stock is fairly valued and to make well-informed investment decisions. But more immediately, short-term traders react to earnings information to execute trades that can result in wild swings in the share prices of public companies.
Beyond big picture information about a company's overall health, earnings reports also offer a granular view of what's happening within various business units. This information can be helpful for investors or analysts to project future growth. Because the financial statements provided in Forms 10-Q and 10-K (sometimes written as 10Q or 10K) conform to a very specific and standard format, it's relatively straightforward to track data over time.
End Quote
Source: https://www.forbes.com/advisor/investing/earnings-reports/
***
---
The opinions expressed herein are provided for informational purposes only and are not intended as investment advice. All investments involve risk, including loss of principal invested. Past performance does not guarantee future performance. Individual client accounts may vary. Although the information provided to you on this site is obtained or compiled from sources we believe to be reliable, Destination Wealth Management cannot and does not guarantee the accuracy, validity, timeliness or completeness of any information or data made available to you for any particular purpose. Any links to other websites are used at your own risk.