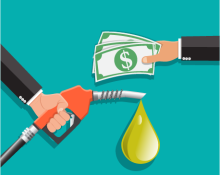 Oil prices continue to trend above $100 a share1 despite this week's announcement that the strategic oil reserve would be tapped to help provide some relief for consumers. This, combined with a small increase by OPEC countries in oil output, is impacting energy prices.
Still, energy and oil prices remain high. We expect that higher prices will continue as long as there is uncertainty related to the Russian-Ukraine conflict. As Russia is a large producer, we believe uncertainty around this economy will cause spikes in prices which will likely impact inflation.
Inflation jumped 6.4%2 in February compared to a year ago. We believe inflation will start to moderate towards the second half of this year but that current inflation levels are a problem and increase the possibility of a global recession. Additionally, it is our view that the China lockdown which is now in full effect will also further impact global GDP.
We have positioned portfolios on the assumption that economic challenges remain despite higher payrolls and increasing wages. We do not believe it is the time to be investing in speculative assets. For that reason, we continue to focus on fairly valued assets, dividend positions, and other positions that we believe will weather uncertain economic times.
A recent article by CNBC highlighted the spike in energy prices. You can see excerpts below:
***
Begin Quote
"Oil prices were lower on Thursday as the White House announced that it will release 1 million barrels per day of oil for the next six months from the Strategic Petroleum Reserve — in an effort to calm spiking oil and gas prices.
International benchmark Brent crude ended the day at $107.91, for a loss of 4.88%. U.S. crude futures for May delivery settled 6.99% lower at $100.28 per barrel.
"The scale of this release is unprecedented: the world has never had a release of oil reserves at this 1 million per day rate for this length of time. This record release will provide a historic amount of supply to serve as bridge until the end of the year when domestic production ramps up," the administration said in a statement.
Oil prices dropped sharply Wednesday evening after reports that such a move was likely. President Joe Biden is set to give remarks later on Thursday."
End Quote
Source: https://www.cnbc.com/2022/03/31/oil-markets-us-strategic-petroleum-reserve.html
***
---
1https://www.reuters.com/business/energy/oil-prices-tumble-more-than-5-barrel-biden-weighs-massive-reserves-release-2022-03-31/
2https://www.usnews.com/news/business/articles/2022-03-31/a-key-inflation-gauge-sets-40-year-high-as-gas-and-food-soar
---
The opinions expressed herein are provided for informational purposes only and are not intended as investment advice. All investments involve risk, including loss of principal invested. Past performance does not guarantee future performance. Individual client accounts may vary. Although the information provided to you on this site is obtained or compiled from sources we believe to be reliable, Destination Wealth Management cannot and does not guarantee the accuracy, validity, timeliness or completeness of any information or data made available to you for any particular purpose. Any links to other websites are used at your own risk.