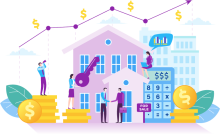 A Pause in the Real Estate Market
Real estate has been on a red-hot tear for a number of years as low rates have spurred an increase in home values. This has been fed by artificially low interest rates from the Federal Reserve which has stimulated the economy. In many ways, this is one of the factors that is leading to higher inflation in the overall economy.
With the Federal Reserve poised to continue to raise rates, the mortgage market is responding by proactively raising rates based on anticipated changes in reserve policy. This will no doubt begin to slow down the housing market.
What the Federal Reserve is doing with home prices is exactly what they're going to do with other prices in the economy. Higher interest rates lead to lower economic activity and that is the goal of the Federal Reserve; to help keep inflation towards a target level of 2% to 3%.
This initial spike in inflation that we are seeing is not to be dismissed. Inflation will continue to rise but we expect it to settle down sometime in the next six months as supply chain problems are resolved and interest rate policy changes dim the prospects for strong economic growth.
From a portfolio standpoint, we have attempted to reduce durations in fixed-income positions, buy assets that we think will be somewhat resistant to inflationary pressures, and look at the market and economy through a lens of higher interest rates. We believe we are positioned where we need to be moving into this interest rate cycle.
A recent CNBC article highlighted the impact of higher interest rates on the housing market. See excerpt below.
***
Begin Quote
"The average rate on the popular 30-year fixed mortgage hit 4.72% on Tuesday, moving 26 basis points higher since just Friday, according to Mortgage News Daily.
As a result of the recent spike in rates, economists are now lowering their home sales forecasts for this year.
Most estimates at the end of last year had the average 30-year mortgage rate hitting 4.5% by the close of 2022, but the war in Ukraine, rising oil prices and inflation have all lit a fire under interest rates.
At this time in 2021, rates were about 3.45%
A shift in the policy outlook from the Federal Reserve, suggesting far more rate increases than expected, is pushing bond yields higher. The 30-year fixed mortgage loosely follows the yield on the 10-year U.S. Treasury, which is now at the highest level since May 2019.
"Rates have a small chance to top out before hitting 5% and a good chance of topping out before hitting 6%," said Matthew Graham, chief operating officer at Mortgage News Daily. "It is a rapidly moving target in this environment, where we legitimately and unexpectedly find ourselves needing to be concerned with inflation for the first time since the 1980s."
End Quote
Source: https://www.cnbc.com/2022/03/22/mortgage-rates-are-surging-faster-than-expected-prompting-economists-to-lower-their-home-sales-forecasts.html
***
---
The opinions expressed herein are provided for informational purposes only and are not intended as investment advice. All investments involve risk, including loss of principal invested. Past performance does not guarantee future performance. Individual client accounts may vary. Although the information provided to you on this site is obtained or compiled from sources we believe to be reliable, Destination Wealth Management cannot and does not guarantee the accuracy, validity, timeliness or completeness of any information or data made available to you for any particular purpose. Any links to other websites are used at your own risk.