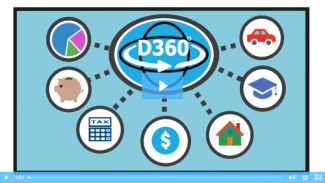 Speaker 1:
One slice of pie might be enough at Thanksgiving, but when it comes to looking at a slice of your financial picture, one slice is just not enough. DWM has a solution to solve the one slice problem and help you come full circle with your financial planning.
Welcome to D360, a coordinated planning service provided by DWM. D360 goes where traditional financial planning doesn't, by giving you one point of contact for your planning concerns. Investment management, wealth transfer, tax planning, retirement planning, estate planning and other financial concerns are discussed, as components of an overall strategy.
We will help coordinate advice professionals from other fields to assist you in developing a plan that addresses your complete financial picture. Effective and coordinated wealth management is as easy as pie, with D360.
Connect with us today and move towards a comprehensive strategy tailored to your needs.