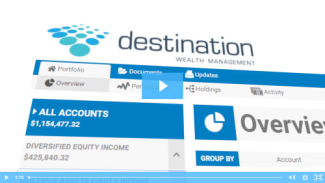 Speaker 1:
Using the Destination Wealth Management portal is an easy way to view your account, review your quarterly, video and portfolio review reports, and upload and share files with your advisor. To log into the portal visit www.destinationwn.com. In the upper right corner, click the client login button. Enter your username and password, and click sign in. To upload documents, from the dashboard click the documents tab then cloud storage.
To view your quarterly report and video statements, click the documents tab first then your statement category. The portal is the most efficient way to connect with your DWM portfolio. Don't forget the DWM app. In your devices app store search Destination Wealth Management to download the mobile app. Enter your login credentials and you're all set.
We look forward to continuing our relationship. For further assistance or information, speak with your advisor.