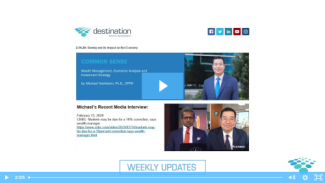 Michael Yoshikami:
Hi, this is Michael Yoshikami, CEO of Destination Wealth Management. I thought it might be helpful to give you an overview of all the ways we keep you informed as a client here at Destination Wealth Management. I think you'll find this very helpful as you work with us.
Each week, we will provide you a weekly update on news of the day that we believe is important you are aware of. It will outline our thoughts on the headlines, as well as how it impacts investment strategy. Each quarter, we will produce a video update specifically designed to provide our clients with information and our thoughts on the headlines. It provides a simple overview of issues that may affect portfolio strategy and any decisions we might make in portfolios on your behalf.
Our online client portal is a great way to access your portfolio strategy. It shows you your investment strategy, details about your portfolio, and also is a depository for a number of important reports, including your quarterly update, past videos, past portfolio review reports, and other portfolio information. On a regular basis, you will meet with a financial advisor to discuss if your portfolio strategy makes sense for your current situation and to review details regarding how assets are invested.
We take great pride in providing you information about your portfolio strategy. We hope this brief overview illustrates our commitment to keeping you informed. I'm Michael Yoshikami of Destination Wealth Management. Thank you so much for watching.